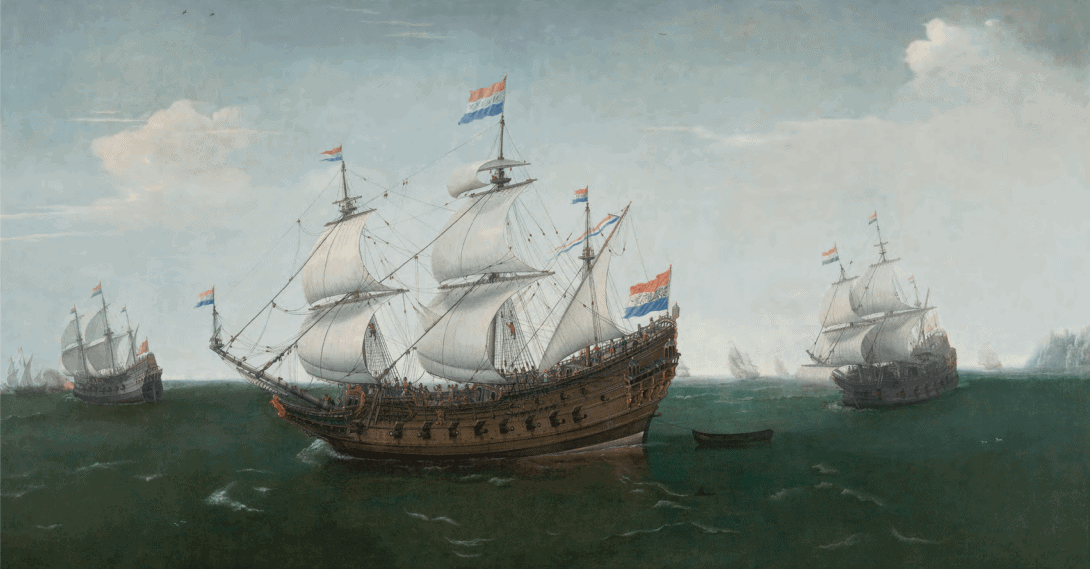 A very rare pair of Seascapes by
HENDRICK CORNELISZ VROOM
Hendrick Vroom had an adventurous life, and by his own account
was shipwrecked on the Portuguese Berlenga Islands...
there is much sea-faring in Holland, the public also started to take great pleasure in these little ships.'
Hendrick Cornelisz Vroom pioneered marine painting as a specialist genre as the Dutch rose to become a leading maritime power. He painted historical battles, ships' portraits and views of maritime towns like Hoorn, Amsterdam and Vlissingen. He also had extensive knowledge of building and equipping early seventeenth-century merchantmen and warships. Vroom worked widely in Europe and built up an international reputation.
According to Van Mander, his fame rested not only on prestigious commissions for images of important battles and political events at sea. He also hailed Vroom for his attention to detail as well as his depiction of nature and scenery: 'Vroom is an excellent master in this respect, in that he has not only much understanding
of ships, good rigging, ropes and tackle, pennants, sails and other things of that kind, but he is also excellent in all other incidentals such as pieces of ground, landscapes, rocks, trees, skies, water, waves, castles, villages, towns, figures, fishes and other things which accompany and enrich his ships.'
Hendrick Vroom is regarded as the father of marine painting and he pioneered the rendering of naval scenes and battles in a new style in which careful attention was paid to maritime detail and rigging. His highly detailed depictions soon brought him fame, enabling him to ask very high prices for them. Van Mander also says he was so productive that he earned a fortune from his work. Vroom was also convinced of his own talent and fame. In 1621, he asked 6,000 guilders for a commission, while Rembrandt, by comparison, received a 'mere' 1,600 for his Night Watch in 1642.
Vroom also started making tapestry designs and was commissioned to design six tapestries titled Battle on Zeeland Waters for the States of Zeeland, to commemorate some of the resounding victories over the Spanish fleet in the years 1572-1576. They are preserved in Middelburg Abbey.
In the 1590s he was commissioned to design a series of ten tapestries for the English Lord High Admiral, Lord Howard of Effingham (Earl of Nottingham from 1596), to commemorate his victory over the Spanish Armada. From 1650 these hung in the House of Lords in Westminster until they were destroyed in the fire of 1834. Fortunately they are recorded in engravings made by John Pine in 1739.
According to Houbraken, this first Dutch marine artist had Jan Porcellis (before c. 1484-1632) as his apprentice. Vroom outlived his pupil by eight years, dying in Haarlem in 1640. Another artist, Cornelis Claesz van Wieringen (Haarlem c. 1575–Haarlem 1633) owed a great debt to Vroom, and probably studied under him.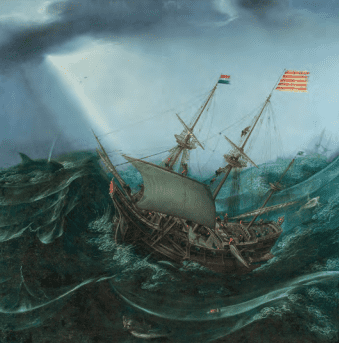 LITERATURE
– Bol, L.B. Die Holländische Marinemalerei des 17. Jahrhunderts. Braunschweig 1974.
– Concise Catalogue of Oil Paintings in the National Maritime Museum London, exhib.cat. National Maritime Museum. Woodbridge: The antique Collectors' Club Ltd. 1988.
– Goedde, L.O. Tempest and shipwreck in Dutch and Flemish art : convention, rhetoric, and interpretation, London 1989.
– Russell, Visions of the Sea. Hendrick C. Vroom and the origins of dutch marine painting, Leiden 1983, p. 114-115, ill. 116;
– Giltaij, Jeroen & Jan Kelch. Lof der Zeevaart, De Hollandse zeeschilders van de 17e eeuw. Rotterdam/ Berlin, 1996.
– Gaschke, J. (ed.), Turmoil and tranquility. The sea through the eyes of Dutch and Flemish masters, 1550-1700 ,Greenwich 2008.
– Hofstede de Groot, C. A Catalogue raisonné of the Works of the most eminent Dutch painters of the seventeenth century. Based on the work of John Smith. London 1923. (3) Vol. 1 t/m 10. (Herdruk Cambridge: University Press 1993.)
– Holstein, F.W.H., Dutch and Flemish Etchings, Engravings and Woodcuts ca 1400-1700, Vol. XLIX, 1976.
– Houbraken, A. De Groote Schouburgh der Nederlantsche Konstschilders en Schilderessen. Vol. I-III, 1718-1721. B.M Israël BV Amsterdam 1976.
– Keyes, G. S. exhibit. cat. Mirror of Empire, Dutch Marine Art of the Seventeenth Century. Cambridge: Press Syndicate of the University of Cambridge 1990.
– Mander, C. van. Het schilder-boeck. Haarlem 1604.
– Preston, R. The Seventeenth Century Marine Painters of the Netherlands. Leighon-Sea, 1974.
– Russel, M. Visions of the Sea. Hendrik C. Vroom and the Origins of Dutch marine painting. Leiden 1983.
– Willis, F.C. Die Niederländische Marinemalerei. Leipzig 1911.
Hendrick Cornelisz Vroom, 1562/3- Haarlem-1640, An Enkhuizer expedition ship in Artic waters, surrounded by whales, and a second ship right on the horizon
Oil on canvas: 103 x 103 cm Signed on the flag in the foremast: VROOM                                       Provenance: Collection Rob Kattenburg                                                                                                    Literature: M. Russell, Visions of the Sea : Hendrik C. Vroom and the origins of Dutch Marine Painting, Leiden 1983, p. 144 and fig.116.                                                                                              Exhibitions: Rotterdam, Museum Boijmans, Het Nederlandsche Zee- en Riviergezicht in de XVIIde eeuw, 22 december 1945 - 3 februari 1946, no. 71; Rotterdam, Kunsthal, Zoet & Zout - Water en de Nederlanders, 14 februari - 10 juni 2012.
---
Published by Rob Kattenburg BV, 2017, Eeuwigelaan 6, 1861 CM Bergen (NH), The Netherlands, Tel. +31 (0)72 589 50 51, Fax +31 (0)72 581 6031, info@robkattenburg.nl, www.robkattenburg.nl, By appointment only