View of Amsterdam with Ships on the River IJ,
in the Middle the Elaborately Decorated City Yacht
A capital painting by
LUDOLF BACKHUYSEN
Emden 1630 - 1708 Amsterdam
One of the most outstanding paintings
of Backhuysen's later oeuvre
It was highly praised in the 18th and 19th centuries
Gerret Braamcamp, 1771
&
John Smith, 1835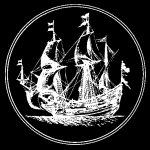 ROB KATTENBURG
---
LUDOLF BACKHUYSEN, MARINE PAINTER PAR EXCELLENCE
Backhuysen is considered one of the most important marine painters of the
seventeenth century, and an excellent draughtsman and etcher.
Very little is known about Backhuysen's early years. Born in the German town of Emden in 1631, he moved to Amsterdam in 1649. The well-educated Backhuysen started his career as an apprentice (bookkeeper and calligrapher) to the famous merchant firm of Bartolotti. His knowledge of geometry, astronomy and navigation made him a great asset to Bartlotti. Backhuysen also taught calligraphy – an art form in which he was particularly proficient – to the sons of rich merchants. His skill as a calligrapher laid the foundations for a successful career. Houbraken (1660-1719), Backhuysen's biographer in the early eighteenth century, notes that his efforts were soon rewarded. An entry in the marriage register on 30 August 1657, the date of his first marriage, to Lysbeth Lubbers, cites his occupation as 'tyckenaer' (draughtsman). His drawings fetched 10, 20, 30 and ultimately 100 guilders apiece, which sharpened his enthusiasm for the work. It was not long before he bade the firm farewell to concentrate solely on art, in particular drawing ships.
As a draughtsman, and later as a painter, Bakhuysen seems to have been largely self-taught. The grisailles (or pen paintings as they are usually called in Dutch) he made in the 1650s show the influence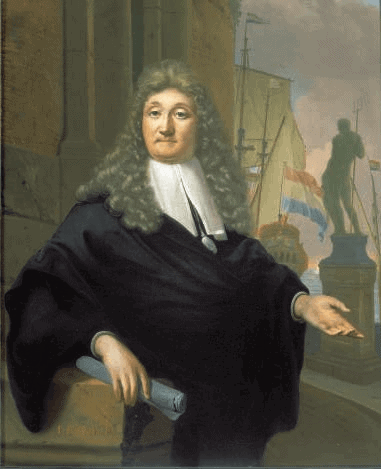 Fig. 1
Portrait of Ludolf Backhuysen (1630-1708)
Oil on canvas, 46 x 37.5 cm
Signed and dated: LBAKH Ft 169(3)
Formerly Rob Kattenburg collection
of Willem van de Velde the Elder (1611-1693) . Impressed by his talent, a number of artists urged him to take up painting in oils. Backhuysen apparently made a habit of visiting painters' studios, where he learned to look carefully and ask questions. Most of the time thus spent was in the studios of Allaert van Everdingen and
Hendrick Dubbels, though he never stayed in either place long enough to suggest that he was a regular pupil of theirs. Although Backhuysen's earliest painting is dated 1658, it was not until February 1663 that he was admitted to the painters' Guild of St Luke.
His reputation as a marine painter must have grown rapidly, for in 1665 the Burgomasters of Amsterdam commissioned him to paint a large view of the harbour of Amsterdam as a gift for Hugues de Lionne, a minister of Louis XIV of France. By the standards of his day, Backhuysen was very well paid, receiving 1,275 florins and a
gold ducat for his wife. Backhuysen's dignified background and the marriages of several women of standing in his life also contributed to an increase in his fortune and to his ability to attract a wealthy clientele. The fact that he was awarded this important commission proves that he was rated as highly as Willem van de Velde the
Younger, who was still working in Amsterdam at the time. The painting is presently in the Louvre in Paris.
The Van de Veldes were not awarded this commission and found that they suddenly had a formidable opponent to contend with. In all probability, the rivalry between the Van de Veldes and Backhuysen contributed to their decision to set sail for England in the winter of 1672. After their departure he became the foremost marine painter in the Republic.
According to Arnold Houbraken, his fame as an artist was widespread, and among his international clientele he numbered the Grand Duke of Tuscany, the King of Prussia, the Elector of Saxony and several other German princes. Tsar Peter the Great of Russia also seems to have been a great admirer of his work. Backhuysen's career
as a painter flourished without interruption until his death in 1708. He was a prolific artist and it is not without awe that Houbraken tells us: 'If it were possible to see all the works of art in one room, one would be astonished by his zeal.' Some six hundred of his paintings have survived. The figure needs to be revised however, as it is based on a now outdated catalogue by Hofstede de Groot published in 1918.
Backhuysen usually painted on canvas. Much of his work is strikingly large and sizes of 100 x 150 cm and larger are more the rule than the exception. He was singularly inconsistent in spelling his name, sometimes writing CK, sometimes a Y instead of an I. There seems to be a connection between different signatures and certain periods in his career. For instance, from the 1680s onwards he spelled his name with a K only.
His subjects range from seascapes and riverscapes to showpieces based on historical fact or fantasy often featuring colourfully dressed people on board the ships or in the foreground, and he was renowned for his storms and shipwrecks. He painted very few naval battles. His seascapes usually create an atmosphere of high drama, which he articulated with light and dark contrasts to convey narrative and action. In the eighteenth century a stormy sea by Backhuysen – like a 'calm sea' by Willem van de Velde the Younger (1633-1707) – was seen as essential in any collection of Dutch paintings. As well as marines, he made a number of portraits and the occasional allegory and townscape. He also left drawings and engravings.
Backhuysen was a keen student of nature, interested in meteorological phenomena and their impact on human enterprise. It seems likely that he repeatedly went out on his 'boeier' to study the movement of the water, since this type of ship is frequently depicted in his paintings and drawings. His compositions, which are numerous, are nearly all variations of one subject, the sea, and in a style peculiarly his own, marked by intense realism or faithful imitation of nature. His career reflects a constant endeavour to capture the movement of light and water in dynamic compositions with bold contrasts in form, colour and light.
Although from a historical viewpoint Backhuysen seems less accurate than the Van de Veldes, there is nothing wrong with the way he depicts the ships. It is clear from his paintings that he understood the different types of ships, and they lie convincingly in the water. Sails and rigging are rendered faultlessly. One only has to look at the work of lesser marine painters to realise just how difficult it is to depict this subject realistically and convincingly.
Backhuysen's artistry was not confined to technical mastery. Artistically he was on a level with the best, and his greatest works – of which there are quite a few – harmoniously combine an atmospheric quality, a wonderfully luminous colour scheme and a happy composition, and are on a par with the best of Willem van de Velde the Younger's paintings.
As in the case with almost every successful painter, the great demand for his paintings inevitably led to the occasional loss of quality, and routine tended to creep in. However, many works remain to fully justify his reputation as one of the best marine painters Holland has ever known, as can be seen in some of the great museums
of the world, such as the Rijksmuseum and the Amsterdam Museum in Amsterdam, the National Maritime Museum in Greenwich, the National Gallery in London and the Louvre in Paris.
As an artist of superior standing Backhuysen had a considerable influence on his contemporaries and later generations. Some of the Van de Veldes from the 1670s have been mistaken for Backhuysens. He greatly influenced a group of marine painters which included Jan Claesz Rietschoof , Hendrick Rietschoof, Michiel Maddersteg, Jan
Theunisz Blanckerhof , Aernout Smit and Wigerius Vitringa. None of these artists achieved the technological and artistic proficiency of Ludolf Backhuysen. Although he is not known to have been his pupil, Abraham Storck was also influenced by Backhuysen.
Later generations of marine painters, such as J.C. Schotel, still turned to him for inspiration. Drawings by J.C. Schotel are still sometimes wrongly attributed to Backhuysen. Even Nicolaas Baur, who was highly praised in his time, was strongly influenced by Backhuysen around the year 1800.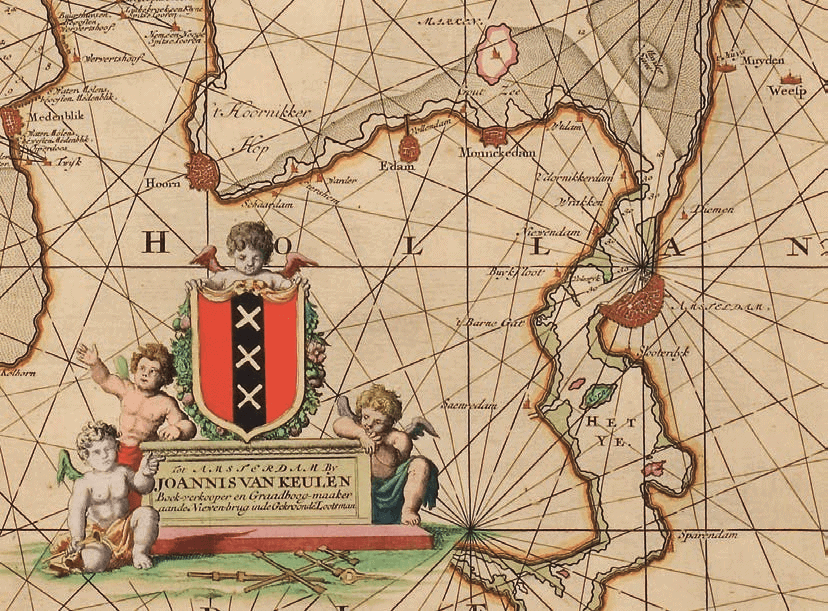 Viewpoint of Ludolf Backhuysen,
looking from Nieuwendam to
Amsterdam
Fig. 2
Johannes van Keulen I
Paskaarte van de Zuyder Zee met
alle des Zelfs inkomende Gaaten
So als die op 't Zeekerts konnen
bezeylt worden : naa Haare
Courekte Course, Opdoeningen,
Droogten, en Diepten
Cloured engraving on paper,
51 x 57 cm
From the 'Zee-Atlas ofte Waterwerelt'; Amsterdam, circa 1680
Rotterdam, Maritiem Museum,
inv. no. WAE696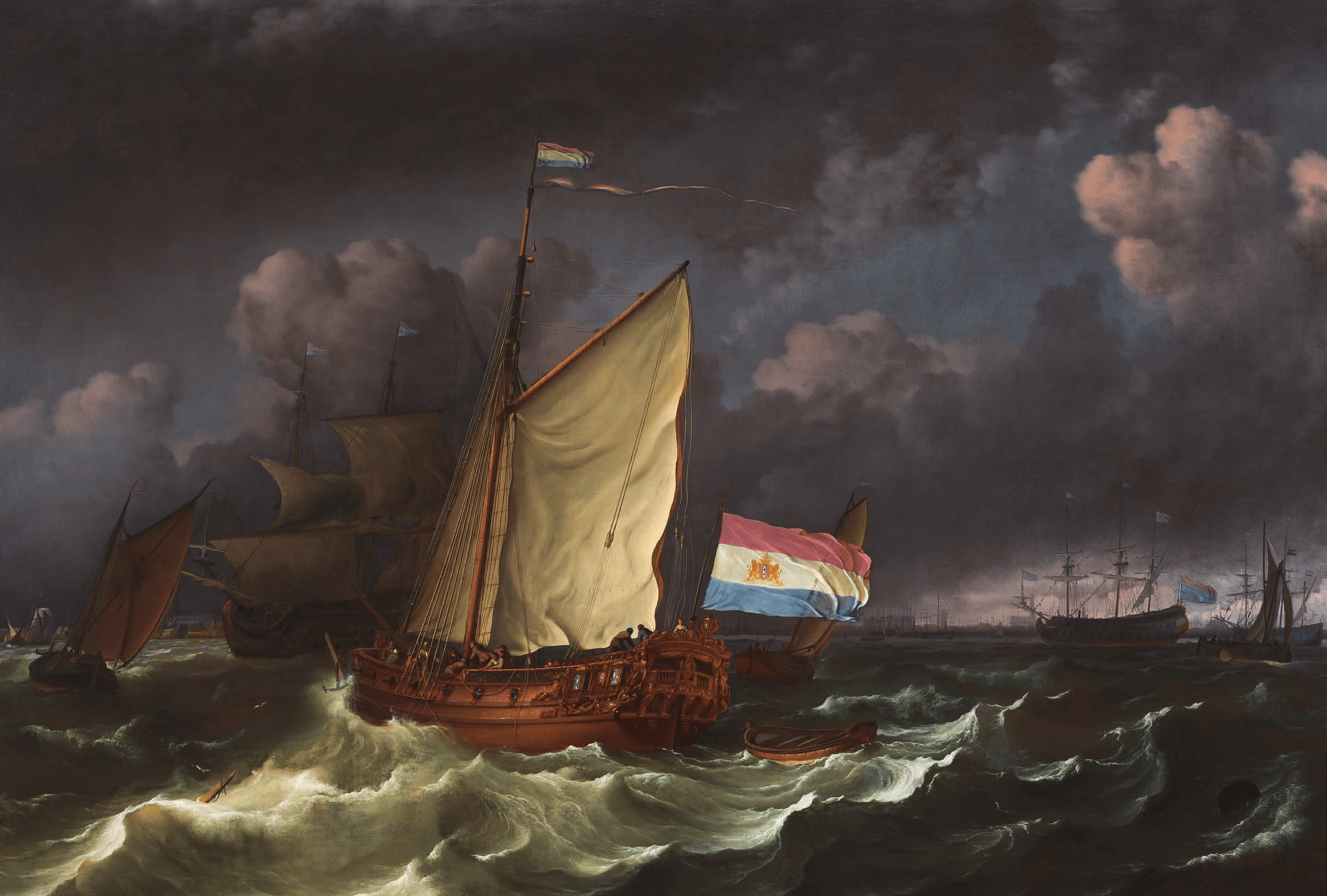 THE PAINTING WAS HIGHLY PRAISED IN THE 18TH AND 19TH CENTURIES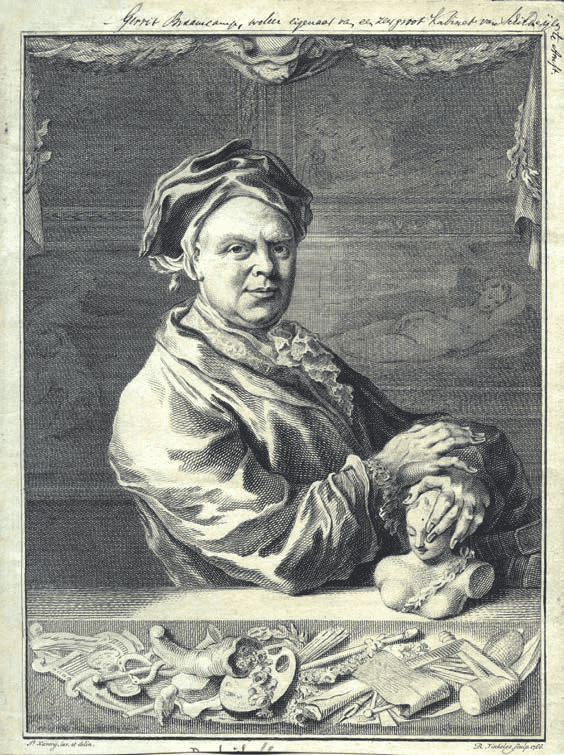 Fig. 4
G. Vinkeles
Etching, 1766
Portrait of Gerret Braamcamp, formerly the owner of a very great
collection of paintings in Amsterdam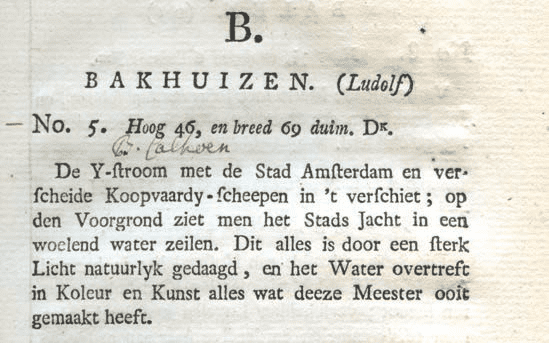 Fig. 6
Third page of the 1771 auction catalogue of the great collection of
Gerret Braamcamp. Backhuysen's seascape is listed under no. 5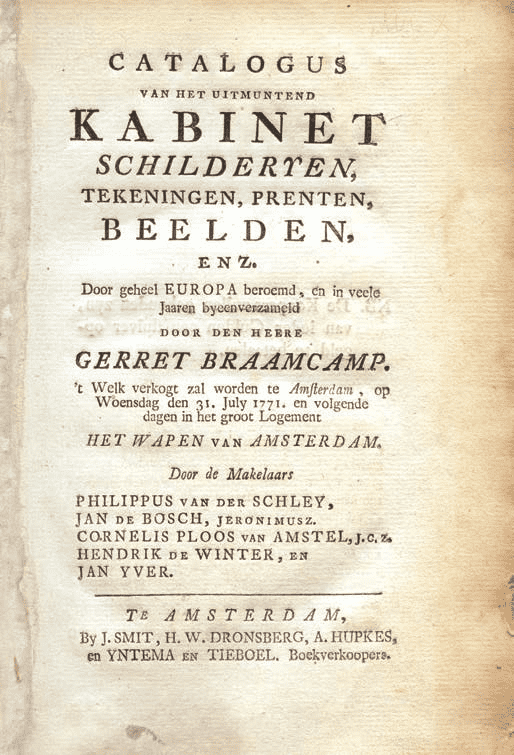 Fig. 5
Frontispiece of the 1771 auction catalogue of the great
collection of Gerret Braamcamp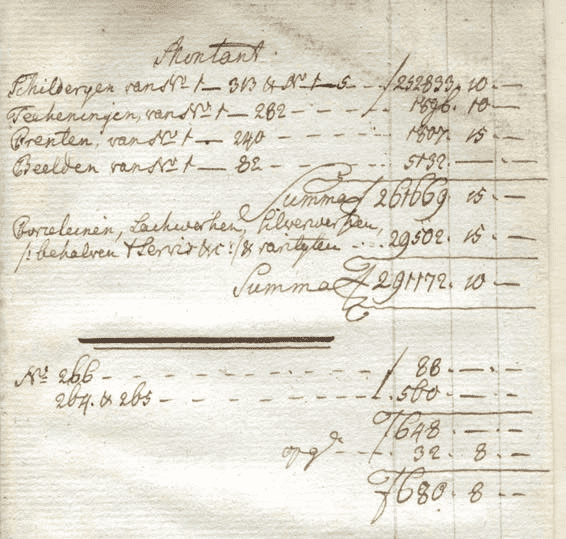 Fig. 7
Annotated page in the 1771 auction catalogue of the total proceeds
of the collection of Gerret Braamcamp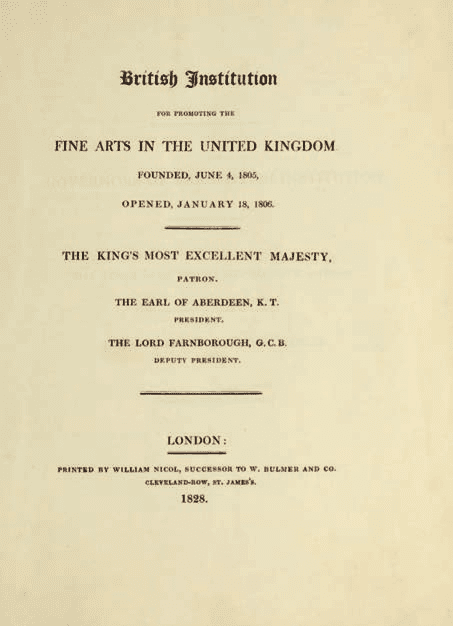 Fig. 8
Title page of the British Institution for Promoting the Fine Arts in the United Kingdom: Catalogue of pictures by Italian, Spanish, Flemish, and Dutch masters of the British Institution for Promoting the Fine Arts in the United Kingdom, London 1828.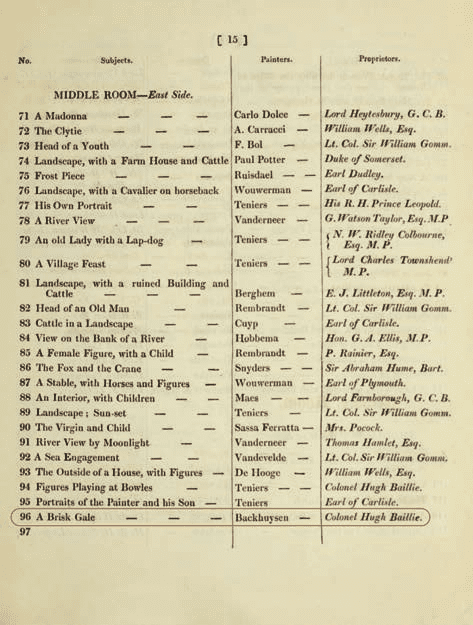 Fig. 10
The painting by Backhuysen was listed as 'A Brisk Gale' under
cat.no. 96 in the London exhibition catalogue of 1828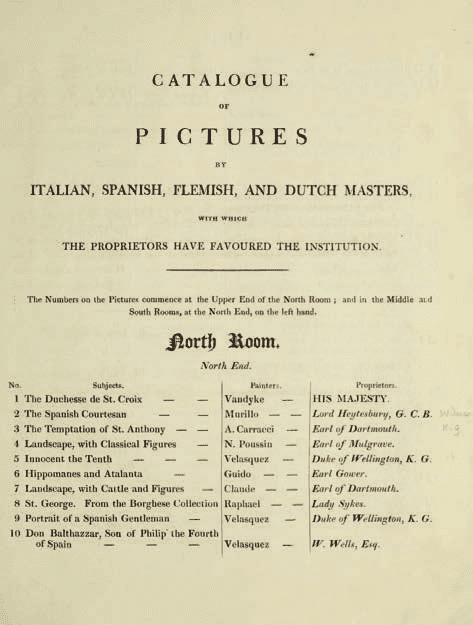 Fig. 9
Introduction page of the exhibition catalogue of pictures by Italian, Spanish, Flemish, and Dutch masters of the British Institution for Promoting the Fine Arts in the United Kingdom, London 1828.
The Backhuysen was cat. no. 96.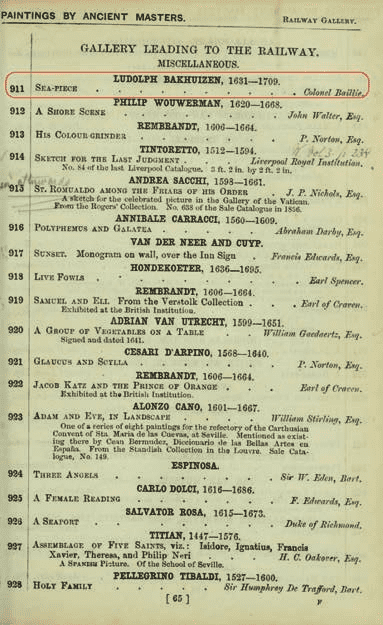 Fig. 11
Page 65 of the exhibition catalogue of the art treasures of the
United Kingdom collected at Manchester in 1857. The Backhuysen
is listed under cat. no. 911 as 'A Sea Piece'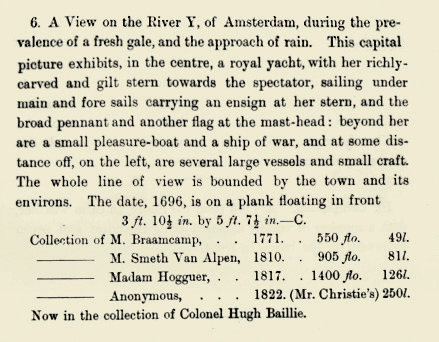 Fig. 12
John Smith's A Catalogue raisonné of the Works of the most eminent Dutch, Flemish, and French painters, London 1835, vol. VI,
p.p. 406-407.
Backhuysen's seascape is annotated and listed under no. 6 as 'This capital Picure'.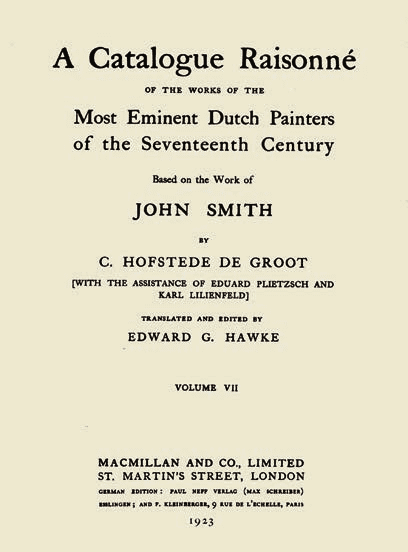 Fig. 13
Frontispiece of C. Hofstede de Groot, A Catalogue raisonné of the Works of the most eminent Dutch painters of the seventeenth century. Based on the work of John Smith. London 1923, vol. VII.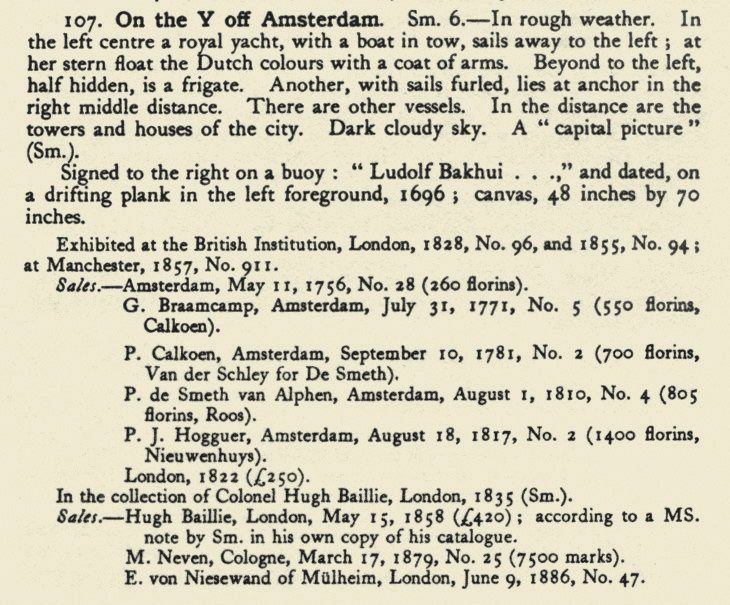 Fig. 14
C. Hofstede de Groot, A Catalogue raisonné of the Works of the most eminent Dutch painters of the seventeenth century. Based on the work of John Smith. vol. VII.
London 1923, pp. 239 240.
Backhuysen's seascape is listed under no. 107 as ' A capital Picure'. (Sm.)
LUDOLF BACKHUYSEN HAS FREQUENTLY DEPICTED AMSTERDAM IN PAINTING,
DRAWING AND ETCH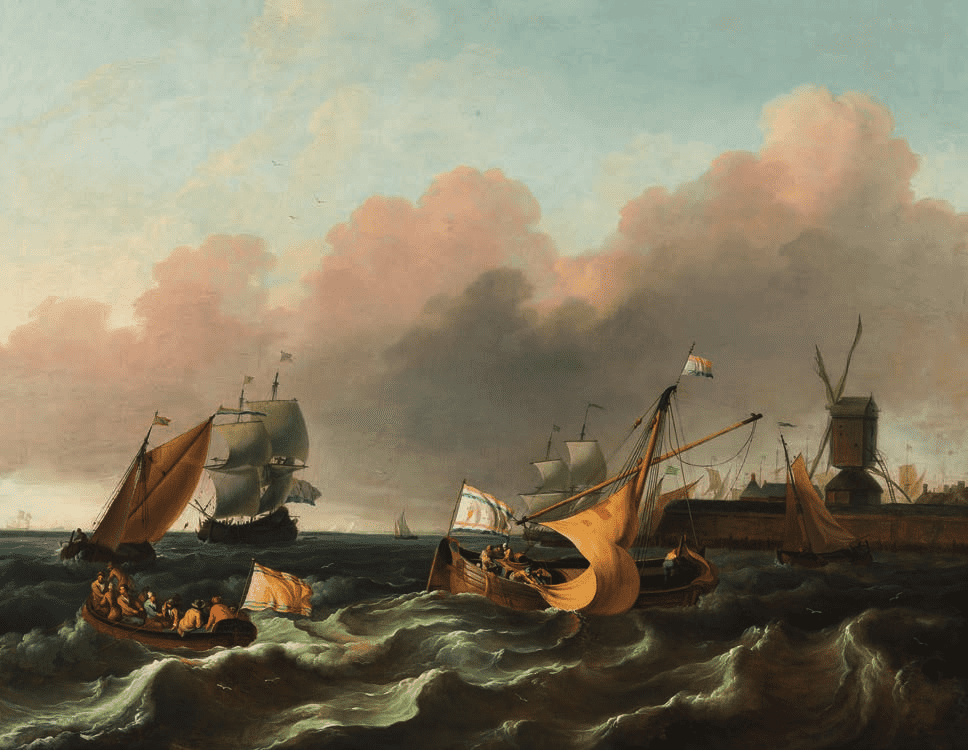 Fig. 15
Ludolf Backhuysen,
Ships on de IJ river (Amsterdam) off the Leeuwenberg jetty and the
windmill 'De Bok, also called 'BLAUHOOFD'
Oil on canvas: 64 x 77 cm
Signed with initials on the flag l.c. : L.B.: Y
Indistinctly signed and dated on the barrel l.r.: L Ba.h /1704
Rob Kattenburg Collection
Ludolf Backhuysen
Two etchings from the complete set of etchings by L. Backhuysen:
"D'Y stroom en Zeegezichten"/ getekent en geëtst door
LUDOLF BAKHUIZEN/ Anno 1701 In Amsterdam
Rob Kattenburg Collection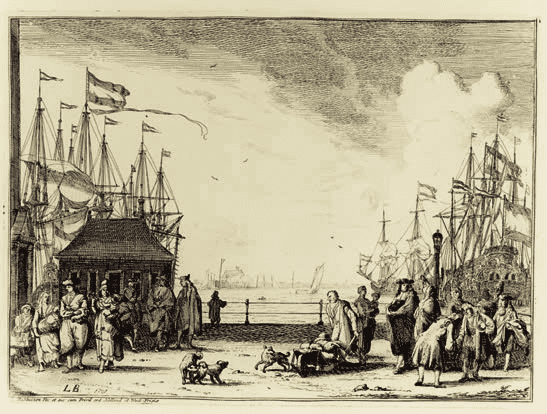 Fig. 16
View across the IJ to the North at the New City Inn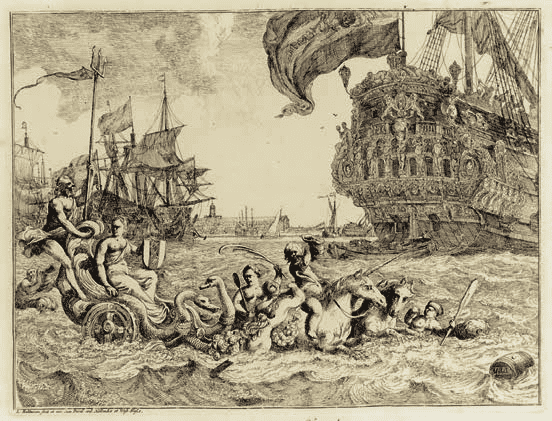 Fig. 17
The personification of the city of Amsterdam on a triumphal car
on the IJ
ACKNOWLEDGEMENTS
Production and research Rob Kattenburg
Text Saskia Kattenburg
Printing Die Keure, Bruges
Typesetting Holger Schoorl
Photo credits
pp. 6-7, 11 and cover, Pieter de Vries, Texel
p. 3 Rotterdam, Maritiem Museum
This catalogue is published by Rob Kattenburg BV, 2018
Rob Kattenburg
Eeuwigelaan 6
1861 CM Bergen (NH)
The Netherlands
Tel. +31 (0)72 589 50 51
Fax +31 (0)72 581 6031
info@robkattenburg.nl
www.robkattenburg.nl
By appointment only