Johannes Christiaan Schotel
Dordrecht 1787 – 1838
The most important marine painter of the nineteenth century
J.C. Schotel became internationally recognized as an excellent draughtsman and painter of seas and especially riverscapes and increased rapidly to become one of the leading maritime artists of his day.
Johannes Christiaan Schotel was the most important Dutch marine painter of the first half of the nineteenth century. He was greatly admired and respected.
Johannes Christiaan Schotel was presumed to succeed his father as a factory owner but from childhood he was drawn to the sea. He was well educated; at an early age he discovered that he had a talent for drawing and took lessons from Adriaan Meulemans (1763-1835).
He was often found at the water's edge observing passing ships and this motivate him to become a sailor. His father could not agree with his son's career choice and bought the boeier Apollo for him in 1804, on condition that he would abandon his travels and focus on trade. He became an experienced sailor and studied the workings of nature, which he captured in his many drawings.
In 1806 he married Petronella Elisabeth van Steenbergen, a notary's daughter who introduced him to the elite of Dordrecht. She recognized his talent and advised him to become a pupil of the brothers Abraham (1753-1826) and Jacob (1753-1798) Van Strij.
Johannes Christiaan Schotel was trained in Dordrecht by the marine painter Martinus Schouman (1770-1848) This largely autodidactic artist studied the work of his famous predecessors Willem van de Velde II (1633-1707) and Ludolf Backhuysen and examined nature during his immeasurable travels.
Artistic Style and Influences
J.C. Schotel was particularly admired for his depiction of the sea in all its moods and his ability to capture effects of light. In addition to being a virtuoso draughtsman he specialized in the depiction of ships, rigging and people against a background of light and water.
In the work of J.C. Schotel we can see the influence of L. Backhuysen (1630-1708) and his drawings are sometimes still wrongly attributed to this seventeenth-century master.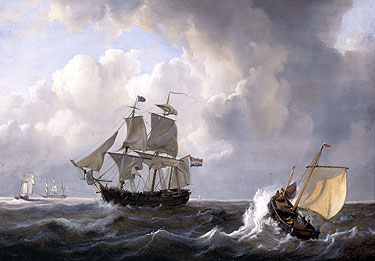 The beautifully decorated 'Statenjacht' is shown on the waters of the North Sea, approaching Vlissingen harbour.
A frigate at open sea
Oil on panel, 26.5 x 37.5 cm
Signed lower right: J.C. Schotel. f.
Coastal view
Oil on canvas, 72 x 95 cm
Signed lower left: J.C. Schotel
Provenance: European private collection
His rendering of the sky and water was excellent.
Exhibitions and Collections
Paintings are found in the museums of Amsterdam, Dordrecht, Haarlem, Otterlo and Rotterdam, as well as in Hannover, Munich, Stuttgart, Nancy and St Petersburg. A large number of drawings by the artist, numbering around a hundred sheets, are now held in the Rijksmuseum Print Room in Amsterdam, while other groups of drawings are in Teylers Museum in Haarlem and Museum Boijmans van Beuningen in Rotterdam. His early illustrated studies can be found in the permanent collections of Princeton University Art Museum, New Jersey, The Morgan Library & Museum, New York, The Metropolitan Museum of Art, New York, and many other institutions.
Shipping off a coast (modello)                                                                                               
Grafite and ink, grey wash, 595 x 700 mm.                                                                                               
Provenance: Private collection, Stuttgart (DE)
Further Reading and Resources
Literature:
G.H. Marius, De Hollandsche schilderkunst in de negentiende eeuw, Den Haag 1920.
G.D.J. Schotel, Leven van den zeeschilder J.C. Schotel, Haarlem 1840                                                  

G.D.J.

Schotel, De zeeschilder P.J. Schotel, Utrecht 1866.         

P.J. Schotel, Heldendaden der Nederlanders ter zee van de vroegste tijden tot op heden, naar aanleiding van de Geschiedenis van het Nederlandsche zeewezen, door Mr. J.C. de Jonge; ontworpen, op steen geteekend en met een' ophelderenden tekst voorzien., Amsterdam z.j. [1849-1855].

 

J. Erkelens ed., exh. cat.

Tussen zonnegoud en kaarslicht. Dordtse meesters 1780-1840

, Dordrecht 1986, pp. 94-101

 N. de Zwaan, Nederland uit de kunst. 365 dagen kijken en lezen, Warnsveld 2005, 3rd of May (ill.).

W. Paus & G.J. Schweiter, Een onsterfelijk zeeschilder J.C. Schotel 1787-1838, Zwolle 1989.

 

P. A. Scheen, 'Lexicon Nederlandse Beeldende Kunstenaars 1750-1880', The Hague 1970.      

F.C.

Willis, Die Niederla

ndische Marinemalerei

, Leipzig 1912.

                                               

                                                                                            
The Dordrecht marine painter Johannes Christiaan Schotel was renowned for his impressive skies and waters.
His specialty was the display of ships, rigging and people against a background of sky and water. J.C. Schotel was particularly admired for his depiction of the sea in all its moods and his ability to capture effects of light.
The basis of his success was distinctly shaped by his painting and artistic qualities and his contemporaries maintained that they equalled those of painters of the Golden Age. J.C. Schotel received many important commissions from the Netherlands and abroad and attracted wealthy clients such as William I, Prince of Orange, the later King William II, the Tsar of Russia and the King of Prussia.
The twentieth-century art historian Pieter Scheen notes that Johannes Christiaan Schotel produced 214 paintings and around 275 drawings and watercolours. Paintings and drawings by the elder Schotel are found all over Europe, the United States and Russia.