Rotterdam 1627 – 1686
A Rotterdam marine sculptor and painter
An excellent painter of dawn scenes, shipping and water, and also a good sculptor
Biography of Lieve Verschuier
Lieve Pieterszoon Verschuier was the son of the Rotterdam woodcarver Pieter Cornelis Verschuier, who worked for the Rotterdam Admiralty. Lieve initially followed his father's profession but after a while left for Amsterdam, where he lived for some time before 1652. He practiced painting to show his love for ships. He possibly trained in nearby Weesp with Simon de Vlieger, who also taught Willem van de Velde the Younger during that period. Around 1653, he travelled to Italy with the Utrecht portrait painter Johan van der Meer. He had returned to Rotterdam by 1656, where he married Catharina Akershoeck and where he would stay for the rest of his life. In 1674, Verschuier became the Rotterdam Admiralty's official sculptor and painter, just like his father had been, and in 1678 he was dean of the Rotterdam guild of wood and stone carvers.
The painter and sculptor, was buried in the French Church in Rotterdam on 17 December 1686.
Artistic Style and Influences
Typical is the way he paints the waves on the water surface, marking the crests with meticulously rendered dashes of light. The feeling of vastness as the eye travels across the endless expanse of the sea is overwhelming
Verschuier is noted for his quiet harbour and estuary views in which he usually included the setting sun from which a powerful and strongly concentrated light evolves. Verschuier's palette of silvery greys, relieved by scarce touches of blue between the clouds expresses this dramatic charge of the coastal scene. Verschuier's seascapes have often been compared to Claude Lorrain, whose work he must have studied during his Italian sojourn. However, while Lorrain's landscapes deliberately forge an idyllic sense of beauty, Verschuier remains a true observer of nature.
Typical is the way he paints the waves on the water surface, marking the crests with meticulously rendered dashes of light.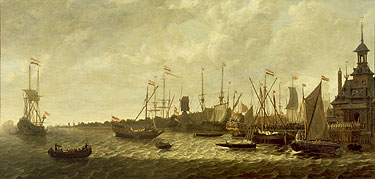 Reception of distinguished visitors in the Old Main Gate in Rotterdam
Oil on panel, 46.9 x 99 cm
Signed
Provenance: 3th Earl of Brownlow, Ashridge, Great- Brittain
Formerly Rob Kattenburg collection
Acquired by the Maritime Museum Rotterdam
His work is characterized by fascinating, almost un- Dutch seascapes, with poetic cloud formations and dazzling sunsets. There is always a picturesque atmosphere in the depiction of sea battles, too. In his very own way, he contributed to the development of marine painting. His work is distinguished from that of his contemporaries by a different use of colour and stronger contrasts.
Exhibitions and Collections
Exhibited: Tentoonstelling van Nederlandsche zee- en riviergezichten uit de XVIIde eeuw, Museum Boijmans Van Beuningen, Rotterdam, 1945-12-22 – 1946-02-03, p. 35; cat.nr. 71; Rotterdam, Kunsthal, Zoet & Zout – Water en de Nederlanders, 14 februari – 10 juni 2012.
Further Reading and Resources
Literature:  
-A. J. Hoving, Nicolaes Witsens Scheeps-Bouw- Kunst Open Gestelt, 1994 Franeker, pp. 331-332, ill. p. 331; Scheepshistorie 23, ill. p. 30 fig. 8.
-P. Dekker & R.Eggink, De walvisvaarder Prins Willem op de Nieuwe Maas bij Rotterdam. Een schilderij door Lieve Pietersz. Verschuier. Amsterdam 1989.
– L.B. Bol, Die Holländische Marinemalerei des 17. Jahrhunderts. Braunschweig 1974.
–Concise Catalogue of Oil Paintings in the National Maritime Museum London, exhib.cat. National Maritime Museum 1988.
– J. Giltaij & J. Kelch. Lof der Zeevaart, De Hollandse zeeschilders van de 17e eeuw. Museum Boymans van Beuningen Rotterdam/ Gemäldegalerie Berlin, 1996-97.
–Rotterdamse meesters in de Gouden Eeuw, exhib.cat. Rotterdam, Historisch Museum 1994.
-F.C. Willis, Die Niederländische Marinemalerei. Leipzig 1911.


https://www.rijksmuseum.nl/en/collection/SK-C-253
https://www.britishmuseum.org/collection/term/BIOG49663
https://www.boijmans.nl/en/collection/artists/18451/lieve-verschuier
His maritime works are valued today for their historical value illustrating the art of shipbuilding in the 17th century.
Unfortunately, nothing has survived of the magnificent carvings that Lieve must have produced for the Rotterdam Admiralty. We know of some seventy-five of his paintings.
The most outstanding of them are scenes of ships at dusk with poetic clouds and cloud formations and dazzling sunsets that are reminiscent.
He is widely regarded as the most important Rotterdam marine painter.
Through this pillar page, we hope to have provided you with a comprehensive insight into the life, influences, and remarkable creations of this excellent painter.